Andi Watson comic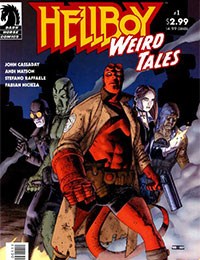 The fantastic world of Mike Mignola is brought to new life by the best artists in comics. John Cassaday (Captain America) provides the stunning cover, as well as two stories in this stunning kickoff. TyRuben Ellingson, who worked side by side with Mignola as conceptual designer on the upcoming Hellboy film, lends a pinup, and Andi Watson (Skeleton Key) brings an infernal duke of Hell to a birthday party.
---
Namor has been many things in his life - ruler, outcast, villian, mutant. But the one story that has yet to be told are his adventures as a wily teen.
---
Andi Watson and Mel Rubi kick it up a notch--and AvP will never be the same!!! A girl named Charley is doing time on a prison colony. Her boyfriend Elliot has a step-mom in The Company who's willing to get Charley out of stir... for a price. All Charley and Elliott have to do is pull a heist at a rival company's research complex. Simple, until a certain dreadlocked hunter from space frees the research. And you get just one guess as to what that "research" is.
---