Alexandre Dumas comic
Alexander Dumas' brilliant follow-up to The Three Musketeers, brought to vivid life as only Roy Thomas and Hugo Petrus can! Deep inside the French prison known as the Bastille resides prisoner number 12, Philippe...who is none other than the twin brother of King Louis XIV. He was incarcerated to prevent him from setting off a civil war in his quest for the kingship itself. But there are forces who will work tirelessly to free this man in the iron mask - and put Philippe on the throne! It's the start of an adaptation that will draw you in with political intrigue so timely it will shock you.
---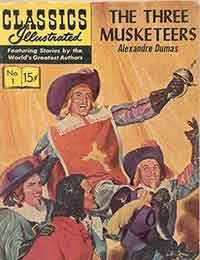 In 1941, Albert E. Kanter introduced Classic Comics, later renamed Classics Illustrated. Kanter's idea was to use the comic form to make great literature accessible to readers who might never otherwise make the effort. Whether his idea represented a watering down of the classics, as some critics claimed, it was an amazingly popular move. Each of the 169 comics in this series were reprinted numerous times, with 23rd printings being relatively common. Their popularity even extended to schools, where the colorful, well-written adaptations must have seemed a welcome alternative to reading lengthy texts.
---