Alex Schomburg comic
These full-color comic stories from World War II tell of true role models of the patriotic ideal. Starting with The Shield and followed by Captain America, a whole battalion of red, white, and blue heroes appeared on the four-color page to help fight the Nazis. Their fascinating history and their stirring tales will both entertain and inspire new generations! See the two-fisted, three-colored Miss America, The Fighting Yank, Super-American, U.S. Jones, Captain Freedom, Lady Liberty, Major Victory, American Eagle, Captain Victory, and many more!
---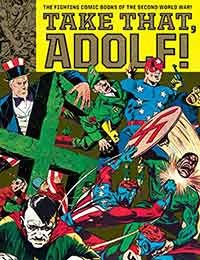 Between 1941 and 1945, Hitler was pummeled on comic book covers by everyone from Captain America to Wonder Woman. Take That, Adolf! is an oversized compilation of more than 500 stunningly restored comics covers published during World War II, featuring America's greatest super-villain. From Superman and Daredevil to propaganda and racism, Take That, Adolf! is a fascinating look at how legendary creators such as Joe Simon, Jack Kirby, Alex Schomburg, Will Eisner, and Lou Fine entertained millions of kids on the home front and buoyed the spirits of GIs fighting overseas by using Adolf Hitler as a punching bag.
---