Vatche Mavlian comic
Northguard returns with a brand new first issue! The fan favourite super-spy returns! Still reeling from the events inCaptain Canuck, Phil Wise is struggling to adapt to civilian life. But when Philis marked for death by the deadly assassin Wolf, Northguard is thrust back into action!
---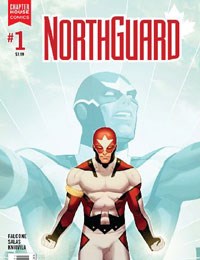 Leaping from the pages of Captain Canuck comes Northguard, Canada's newest super-hero! His first mission: Track down The Aurora Dawn, a mysterious cult hoping to bring about the end of the world! Chapterhouse Comics' Captain Canuck reboot has garnered praise and critical acclaim, now see our contribution to the legacy of another classic Canadian superhero, Mark Shainblum and Gabriel Morrisette's Northguard!
---