Umberto Giampa comic
Renowned for his trademark 2x4 plank and his signature "HOOOOOOO!" battle cry, Hacksaw Jim Duggan's storied wrestling career spans 35 years and every major wrestling promotion in the United States, including Mid-South, WCW, and, of course, his prime years as the patriotic babyface in the WWF. Introduced to professional wrestling by patriarch Fritz Von Erich, Hacksaw went on to timeless feuds with Nikolai Volkoff, Sgt. Slaughter, Yokozuna, Randy "Macho Man" Savage, Steve Austin, and many more. Along the way, he won the first-ever Royal Rumble championship, became King of the WWF in 1989, and was WCW United States Heavyweight Champion in 1994. His unmatched charisma and ring presence, along with this bounty of accomplishments, landed him a well-deserved place in the WWE Hall of Fame in 2011.
---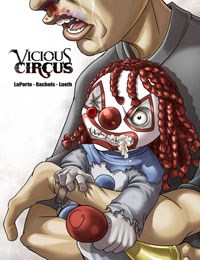 A tiny, country municipality in Kentucky becomes a hunting ground for killer clowns...clowns who hunt people...cruel and abusive people. When the circus comes to town, those who violate the helpless soon find themselves the victims of the brutal justice of the clowns, our twisted deliverers of comeuppance! A small band of locals, including two very good clowns, investigate what becomes of a little boy liberated by the clowns from his violent excuses for parents.
---
FamineAs the Apocalypse falls on the last town in creation, the Horseman, Famine, is its harbinger in the form of a monstrous Plowman who sets forth to reap devastation by the edge of his plowshare and by the hoof of his Hellish workhorse! He is challenged only by a small cadre of townsfolk - an arrogant tycoon, a socialite mayor, a hardened sheriff, and a grizzled hired gun. They are the only obstacles to the destruction of everything that keeps their town alive!
---