Typeset comic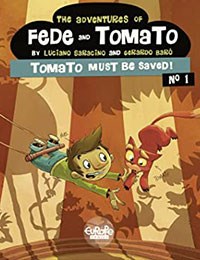 One morning, the circus arrives in Fede's town. What a thrill! Now he has a chance to be a circus star! And there he goes, with his cat Tomato, avoiding any streets where he might run into Florencia (because Florencia is his girlfriend, but she doesn't know it yet). Of course, things get complicated when the lion looks at Tomato with hungry eyes! And the adventure begins when... TOMATO MUST BE SAVED!
---
In the future, glistening buildings line the city's skyline. In the future, rich and powerful men wish to exploit power they don't fully comprehend. In the future, a new warrior emerges… a shapeshifter that will help the people rise against the forces of oppression! Luciano Saracino and Ariel Olivetti return to the savage world of Brutal Nature!
---
A collection of masks transforms the young man known as Ich into innumerable different beasts and monsters. Using this ancient power, he embarks on a battle that pits the indigenous people of Colombia against the encroaching Spanish empire. But can one man hope to beat back the massive forces of the conquering Spaniards? Luciano Saracino and Ariel Olivetti (Venom: Space Knight) bring readers a stunningly illustrated story of beasts and men fighting for the soul of a nation!
---