Skottie Young comic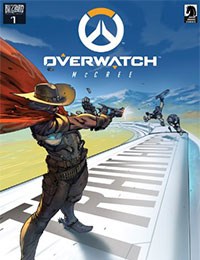 Justice aint gonna dispense itself. It's high noon as McCree takes center stage in Train Hopper, the first in a series of free digital comic shorts that further illuminate the characters and world of Overwatch. Train Hopper follows a day in the life of gunslinging outlaw Jesse McCree, the former Blackwatch operative who metes out his own brand of vigilante justice. In Train Hopper, McCree hitches a ride on a hypertrain to Houston in the hopes of skipping town and laying low for a while. But soon after the engine starts, he realizes his trip is going to be anything but low profile. Written by Blizzards own Robert Brooks and illustrated by Bengal (Adventures of Supergirl), McCree: Train Hopper is now available to read in full! We hope you enjoy it, and stay tuned for more Overwatch digital comics coming soon!
---
Like its predecessors, Volume III features beautiful full-color artwork by Peter Lee, Stanton Feng, and other fan-favorite artists, as well as intricately detailed maps and spot art by Joseph Lacroix. Bolster your knowledge of Warcraft lore with this striking third volume!
---
Blizzard Entertainment and Dark Horse Books are thrilled to present the next installment of the wildly popular World of Warcraft Chronicle series. Volume 2 will reveal more sought-after details about the game universe's history and mythology. Showcasing lush, all-new artwork from fan favorites such as Peter Lee, Joseph Lacroix, and Alex Horley, this tome is sure to please all fans—casual and collector alike.
---