Sean Gregory Miller comic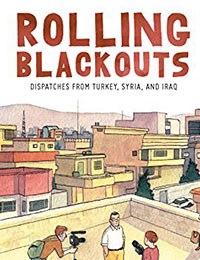 Cartoonist Sarah Glidden accompanies her two friends—reporters and founders of a journalism non-profit—as they research potential stories on the effects of the Iraq War on the Middle East and, specifically, the war's refugees. Joining the trio is a childhood friend and former Marine whose past service in Iraq adds an unexpected and sometimes unwelcome viewpoint, both to the people they come across and perhaps even themselves.As the crew works their way through Turkey, Iraq, and Syria, Glidden observes the reporters as they ask civilians, refugees, and officials, "Who are you?" Everyone has a story to tell: the Iranian blogger, the United Nations refugee administrator, a taxi driver, the Iraqi refugee deported from the US, the Iraqis seeking refuge in Syria, and even the American Marine.Glidden (How to Understand Israel in 60 Days or Less) records all that she encounters with a sympathetic and searching eye. Painted in her trademark soft, muted watercolors and written with a self-effacing humor, Rolling Blackouts cements Glidden's place as one of today's most original nonfiction voices.
---
The award-winning graphic memoir about Israel that offers more questions than answers about identity and politics. Sarah Glidden is a progressive Jewish American twentysomething who is both vocal about and critical of Israeli politics in the Holy Land. When a debate with her mother prods her to sign up for a Birthright Israel tour, Glidden expects to find objective facts to support her strong opinions. During her two weeks in Israel, Glidden takes advantage of the opportunity to ask the people she meets about the fraught and complex issue of the Israeli-Palestinian conflict, but their answers only lead her to question her own take on the conflict. Simple linework and gorgeous watercolors spotlight Israel's countryside, urban landscapes, and religious landmarks. With straightforward sincerity, lovingly observed anecdotes, and a generous dose of self-deprecating humor, How to Understand Israel in 60 Days or Less is accessible while retaining Glidden's distinctive perspective. Over the course of this touching memoir, Glidden comes to terms with the idea that there are no easy answers to the world's problems, and that is okay. This debut book landed on several best-of-the-year lists, including Entertainment Weekly's; earned a YALSA Great Graphic Novels for Teens distinction; and won an Ignatz Award. Her second book, Rolling Blackouts, which documents her experience shadowing journalists in Turkey, Iraq, Lebanon, and Syria, will also come out this fall from Drawn & Quarterly.
---