Sal Buscema comic
The mysterious man known as Buzzard is lost, wondering what manner of creature he is, following his brutal showdown with the loathsome Zombie Priest in Eric Powell's celebrated Goon Year.Buzzard leaves home, wandering into the shadowy spirit realm of the forest. A dark path leads to a village living in fear of a bestial race of savages. More animal than man, these creatures hunt the villagers and drag them from their slumber in the depth of night.As a bonus, readers will delight in the new Billy the Kid's Old Timey Oddities short stories, which revive 2005 series that paired Eric Powell with artist Kyle Hotz and leads up to the three-issue series launch in September 2010.
---
The last time we saw Simon Garth, the bank teller single-handedly stopped a gang of murderous robbers and got shot, bitten by zombies and med-evac-ed straight into Army custody for scientific experimentation. No problem, right?
---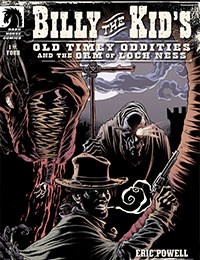 From the Eisner award-winning creator of The Goon comes an over-the-bigtop horror romp pitting outlaw legend Billy the Kid and a band of circus "freaks" against the evil machinations of the nefarious Dr. Frankenstein!Penned with deranged glee by Powell and illustrated by fan-favorite horror artist Kyle Hotz (The Agency andThe Hood), Billy The Kid's Old Timey Oddities starts with Billy the Kid free to roam America, having faked his own death. Free, that is, until Fineas Spoule, AKA. The Human Spider, discovers his secret. Now, afraid of being exposed, Billy finds himself in the service of a caravan of carnival sideshow performers who have unfinished business with a mad scientist none other than Victor Frankenstein himself!This twisted love child of spaghetti westerns and Hammer horror flicks combines Powell's humorous fast-paced storytelling and Hotz's quirky macabre visuals for a story that the whole family will love...if they're the kind of family that love alligator men and miniature boys fighting monstrous mistakes of science with the help of the fastest gunslinger in the West!Written by Eric Powell creator The Goon, recipient of the International Horror Guild Award and multiple Eisner Awards!
---