Roger Cruz comic
New groundbreaking work from Ba and Moon! Twin brothers Omar and Yaqub may share the same features, but they could not be more different from one another. After a brutally violent exchange between the young boys, Yaqub is sent from his home in Brazil to live with relatives in Lebanon, only to return five years later as a virtual stranger to the parents who bore him, his tensions with Omar unchanged. Family secrets engage the reader in this profoundly resonant story about identity, love, loss, deception, and the dissolution of blood ties. From the Eisner Award–winning and New York Times best-selling duo behind Daytripper, Gabriel Ba and Fabio Moon!
---
They were two of Entertainment Weekly's Top 100 stars to watch. They've won multiple Eisners and have worked with the top names of comics and pop culture from Joss Whedon (Sugar Shock) and Mike Mignola (BPRD: 1947) to Gerard Way (Umbrella Academy) and Matt Fraction (Casanova). Now, Brazilian wonder twins Fábio Moon and Gabriel Bá are back writing and drawing in a hauntingly lyrical series set in their native Brazil. With DAYTRIPPER, they follow in the tradition of Craig Thompson, Paul Pope and David Mazzucchelli – cartoonists at the top of their game making comics about the quiet moments that ask big questions. Brás de Oliva Domingos is an obituary writer with a famous father, a career he hates, and tons of questions. How does a person become a successful writer? How does a man get out of his father's shadow? But those concerns will dwarf the surprise he'll find in the first issue – a twist both he and readers will never see coming, which will grow into a mystery about the meaning of life itself.
---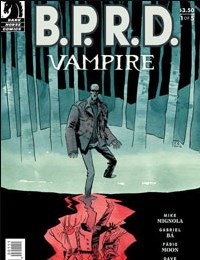 After the horrific events of B.P.R.D.: 1948, we follow one doomed agent's quest for revenge against a clan of vampires and their Gorgon-eyed queen Hecate.
---