Rodrigo Lorenzo comic
Birds of PreyWhen Dr Crowe arrives in London to solve the murder of a police constable, he crosses paths with The Elephantman, who is on a mission of his own to find the missing children of Whitechapel.Together they will fight for their lives to survive the night.Taking place after MERRICK: THE SENSATIONAL ELEPHANTMAN #6 and DOCTOR CROWE #4 this new one-shot cross-over brings together the two iconic indie comic characters in a rip-roaring 1880's pulp adventure.Accessible to fans of the individual series and new readers alike.
---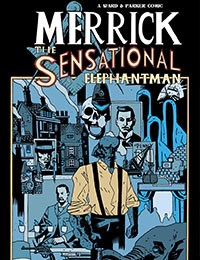 The Most Remarkable Human Being Ever to Draw the Breath of Life.Betrayed, robbed and left for dead by his tour manager, Merrick finds his way back to London where he is rediscovered by Dr. Frederick Treves who, unknown to Merrick, is the man responsible for his exile to Europe. Treves takes Merrick back to the London hospital where he can recover, promising to search for a cure to Merrick's condition but actually attempting to unlock the secret of his skin for his own gain.
---