Robert Golden comic
Contains samples of "All-Star Squadron", "Arion, Lord of Atlantis", "The War is Over!", "Wonder Woman", "Batman", "Amethyst, Princess of Gemworld", "The New Teen Titans", "GI Combat", "The 1st Super-Hero Team-Up Comic is Still the Best!", "What Kind of Sentient Being Devours Every Issue of Legion?", "Flash", "Arak, Son of Thunder", "Echoes of Time Gone By", and "The Fury of Firestorm the Nuclear Man".
---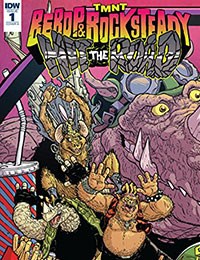 Everyone's favorite mutated masters of mayhem, Bebop and Rocksteady, are road tripping back to NYC! But before they can get started on their journey across America, they run into a crazy old enemy who's bent on derailing their trip before it can begin!
---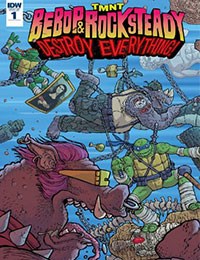 After their defeat in TMNT #50, the dull-witted Bebop and Rocksteady, everyone's favorite warthog and rhino mutants, are feeling dejected and without purpose. However, when they stumble across a time-travel scepter, they realize that their craziest, most destructive adventure awaits! Will the universe survive?
---