R. B. Silva comic
The masterpiece by Belgian comics creator Hermann is available in English for the first time! A misanthropic European expatriate, Dario Ferrer, acts as guardian of a Tanzanian wildlife preserve. Accompanied by Charlotte, a naive European journalist, Ferrer discovers a village under fire from mysterious agents of the foreign-backed government. Ferrer and Charlotte must fight not only to protect the preserve, but to expose government corruption--and survive to see another day.
---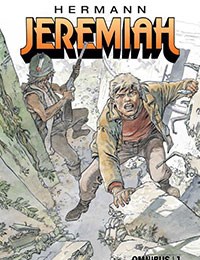 One of Europe's most revered comics classics comes to America! At the end of the twentieth century, the United States is overcome by race hatred, and the ensuing civil war leaves only a few million survivors and a shattered society. Forced by circumstances into a series of violent moral compromises, innocent Jeremiah and his cynical friend Kurdy attempt to find their place in the postapocalyptic world without descending into savagery. Collecting the first three volumes of the acclaimed series, the Jeremiah Omnibus is one of the darkest, most dangerous sci-fi stories in comics!
---
American release of the Belgium series Jeremiah (Dupuis 1979) by Hermann Huppen.
---