Otto Schmidt comic
Inside the June Alley Inn, located in the western mouse city of Barkstone, mice gather to tell tales, each trying to outdo the other. A competition, of sorts, begins. The rules: Every story must contain one truth, one lie, and have never been told in that tavern before. Legends of the Guard is a new Mouse Guard anthology series with artists and storytellers handpicked by creator David Petersen.
---
What's to Love: Jeremy Bastian's intricate artwork is unlike anything in modern comics, and his first Cursed Pirate Girl graphic novel has garnered wide critical acclaim. Now he's back to bring readers the next chapter of the Cursed Pirate Girl's adventures in this over-sized annual in the vein of Alice in Wonderland meets 19th-century political cartoons. What It Is: The fiery Cursed Pirate Girl and the young Apollonia continue their search for the pirate girl's father, one of the pirate captains of the dreaded Omerta Seas. This is the first annual installment of Volume 2 of Cursed Pirate Girl with 52 pages of all-new story.
---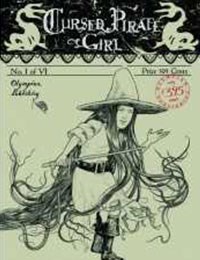 Cursed Pirate Girl is a buddy story that takes place in 1728. It is about said pirate girl and the daughter of the governor of Port Elizabeth, Jamaica, a town made famous by the Pirates of the Caribbean movie franchise. The dialogue is snappy, with just enough archaic slang to give it the appropriate Restoration Era flavor. The events of the story, however, are only a conduit for the most brilliant part of this comic...the plethora of odd characters that are crammed into every page.
---