Nick Stakal comic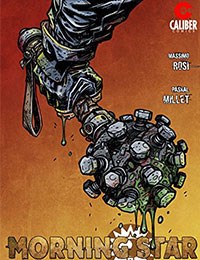 MORNING STAR is a unique agency financed by the Vatican to protect the human world and hunt supernatural creatures that use their paranormal powers for evil purposes. It is an organization base around the world that has existed from centuries, ever since the last of the Knights Templar disappeared. But over the years things have changed, the individuals within the Church funding the group have become less devoted to religion, and increasing skeptical to the cause of killing paranormal evil creatures. Which can have dire circumstances for the world.
---
In Cold War's America, The Gauntlet is the only superhero ever created by men, and he is American. Being the only one ensured The Gauntlet fame, alcohol, sex and drugs; however this ruins the reputation and the advantage on the Soviet Union of one of the most powerful countries in the world and the only solution is to get rid of The Gauntlet.
---
The Second World War had ended. Humanity was at its lowest, recovering from the death and destruction of millions of people and their homelands. We were weak and vulnerable. It was at this time that the Aliens decided to invade. They were advanced and all-conquering Aliens, in search of raw materials, resources for their own planet. Earth was that planet and it needed to be harvested and then destroyed before it became a powerful enemy. And it was now ripe for invasion. Only the Humanity Department of Resources stood in their menacing way, and in the way of the total annihilation of our beloved planet Earth.
---