Natalie Andrewson comic
Thundering herds of lizards roam Cretaceous America, and the earth trembles with their passage. Enormous yet graceful meat-eaters shred the still-living meat from the bones of placid plant-eating saurians. Tyrannosaurus rex, the most fearsome carnivore that ever lived, is king. But even T-rex isn't safe from the greedy eyes and the ravenous appetites of a band of bird-quick Deinonychus. A tale from an age before humans and language, Age of Reptiles: Tribal Warfare is a 128-page epic told entirely in pictures. Ricardo Delgado, production artist for "Star Trek: Deep Space Nine," has crafted the finest graphic novel about dinosaurs ever released.
---
One of the few books to harness the sheer visual edge that comic books will always have over written fiction, Hieroglyph, much like Ricardo Delgado's previous project (Age of Reptiles), lets the art do the talking. A (human) space explorer lands on a strange planet which seems to comprise of giant bugs as its dominant life form. He pursues these beings in the name of science, falling deeper into the pitcher plant trap that forms the core of book one. The second book details his effort to both understand this mammoth insect colony and its confounding ritual as well as make a run for his life. The story is, of course, not very original, but Delgado's art work (he can draw more than Dinosaurs, yep) breathes incredible life within the confines of every panel, most of which span the entire page.
---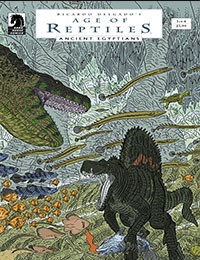 ---