Michael Kupperman comic
Spinning out of the Neil Gaiman's critically acclaimed SANDMAN series, THE DREAMING explores both new and familiar inhabitants of Morpheus's realm in self-contained tales, short story-arcs, and longer, intricately woven sagas by rotating creative teams.
---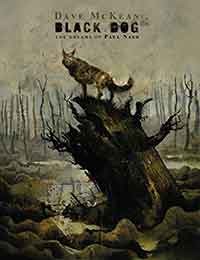 A new original graphic novel by DAVE McKEAN! Best known for his collaborations with Neil Gaiman, Dave McKean defied expectations with his stunning debut as writer and artist in Cages, winner of multiple awards for Best Graphic Album. Dark Horse proudly presents a new original graphic novel by the legendary artist based on the life of Paul Nash, a surrealist painter during World War I. The Dreams of Paul Nash deals with real soldiers' memoirs, and all the stories add up to a moving piece about how war and extreme situations change us and how we deal with the resultant pain—in Nash's case, by turning his landscapes into powerful and fantastical "psychoscapes".
---
Dave McKean, famous for Arkham Asylum and his covers for Sandman, presents a highly allegorical tale of the dwellers of an apartment building. Running in parallel lines or tangentially, the differing lives each have their own tale to tell under the magic spin of McKean's brilliant imagery and story-telling. It's about a blocked painter, a controversial novelist, and a wise musician. It may be about God, about Jazz, about sex, but also about creativity and artistic fulfillment.
---