Matthew Clark comic
One of the most popular and successful webcomics, like, ever, CYANIDE & HAPPINESS has consistently offered up a humorous look at life—in stick figure form—and we are big fans. The experimental, hilarious voice of CYANIDE & HAPPINESS embodies the spirit of BOOM! Box and we jumped at the chance to collect it.
---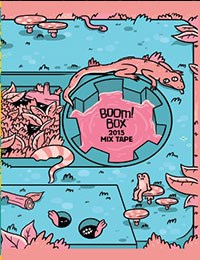 "What's to Love: If you're loving the comics being released under the BOOM! Box imprint, delve into a world of more of the same stories! From the wacky to the touching, you'll never know what you're going to get. Here's a hint: brand-new Lumberjanes, Giant Days, Munchkin, Cyanide & Happiness, and Power Up stories, plus a sneak peek of Jon Chad's Bad Mask!
---
WHY BOOM! LOVES IT: You ever think of a story that you'd love to tell, but can't think of a home for them? Well, those stories go to this sweet little orphanage for eccentric tales, called THE MIX TAPE. We gathered the best of the best, reached out to our favorite artists and storytellers, and created this oversized, deluxe love letter for you.
---