Marguerite Van Cook comic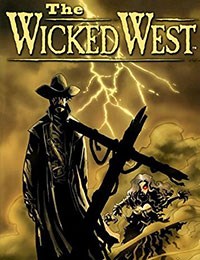 The year is 1870, the place is the Texas frontier town of Javer's Tanks. Cotton Coleridge is a man running from his past. And being new in town, he's the one the locals blame when folks start dyin' mysteriously. By the time the truth gets out, half the town has died... and come back. Cotton's quick with a gun, but guns don't work on vampires!
---
World War I. In the battle between good and evil, evil just got creative: The Germans are developing a mysterious weapon to break through the trenches. American pilot Jack Shannon and Archie Caldwell, Britain's greatest stage magician, are sent behind enemy lines, into the heart of the supernatural vortex that is the Black Forest. There, in a remote castle, they match wits with evil occultist Avery Dye, who aims to use Frankenstein's Monster as a template to create an army of unstoppable re-animated dead! In order to thwart the forces of evil, Jack and Archie will be forced to battle Nosferatu, werewolves, a sorcerer, and Frankenstein's Monster himself!
---