Luciano Vecchio comic
FIRST ISSUE! Leaping from the pages of the DEVI/WITCHBLADE crossover event in January, Graphic is now re-releasing the hit series for a new generation of readers with an all-new backup story and new cover by acclaimed artist JENNY FRISON! From filmmaker, Shekhar Kapur (Elizabeth, Elizabeth: The Golden Age, The Four Feathers) comes DEVI, the warrior goddess of divine myth. Tara Mehta, an unsuspecting young woman in the futuristic city, Sitapur is the new Devi. She has no idea that she is about to become the centerpiece of a divine battle between the Gods of Light and the demon lord Bala. Devi is a story about a young woman battling for survival in a landscape of ancient legends, duty and fate. Where will she fall? Between the Divine and the Diabolical there is Devi.
---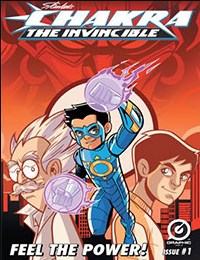 As seen in newspapers and media around the world! From the mind of legendary writer Stan Lee, co-creator of Spider-Man™, X-Men™, Iron Man™, Hulk™, and The Avengers™ comes his latest superhero, CHAKRA THE INVINCIBLE. When Raju Rai, accidentally activates an experimental suit that unleashes the mystical chakras of the body, he gains superpowers and vows to protect the people of Mumbai as CHAKRA, The Invincible!
---