Louie De Martinis comic
Lost in the Delta Quadrant, Captain Janeway and the crew of the U.S.S. Voyager NCC-74656 have been seeking a way home for years. But their quest is interrupted by encounters with an astonishing variety of foes - and a few new friends. This collection contains four tales that exemplify all that''s best about the adventures of Voyager: "False Colors", "Avalon Rising", Elite Force", and "Planet Killer".
---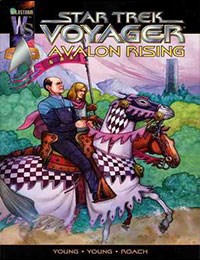 A stunning Prestige one-shot casts Captain Janeway and her crew as figures in a real-life fairy tale as the Doctor goes on an urgent mission alone on a strange planet's surface.
---