Leigh Gallagher comic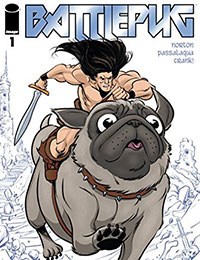 The hit fan-favorite webcomic created by the Eisner Award-winning duo of MIKE NORTON and ALLEN PASSALAQUA is now a NEW COMIC SERIES! It's been a few years since the last Kinmundian saved the world with the help of his faithful Battlepug, but a new threat arises. The epic tale returns as our favorite barbarian and his trusty overgrown dog renew their quest for insane adventure! Same dog. NEW TRICKS!
---
The epic tale of blood and drool begins here! Join Molly and her dogs Mingo and Colfax, as she recounts the legend of "The Warrior and the Battlepug",a tale of a fearless barbarian, his trusty and freakishly large pug, and evil baby harp seals. This volume collects the first year of Mike Norton's Battlepug,the perfect opportunity to get in on the ground floor of the fan-favorite webcomic by Mike Norton, Allen Passalaqua, and Crank! * By famed Runaways artist Mike Norton! It's a pugly job, but someone's gotta do it!
---