Jung Choi comic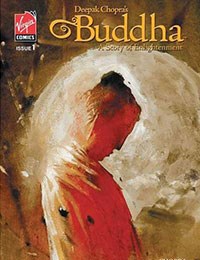 A stunning adaptation of The New York Times Bestselling novel by spiritual leader Deepak Chopra, realized by visionary comics writer Joshua Dysart, BUDDHA: A TALE OF ENLIGHTENMENT is an emotionally evocative, fictional look at one of the most iconic figures in philosophy and spiritualism; Buddha. We begin with war and strife and the birth of a being destined to become a leader. But will he lead as a king with wealth and power, or choose a different path of poverty, compassion, and enlightenment?
---
The epic tale Ramayan 3392 A.D. has just been reloaded! The quest of the hero Rama, his loyal brother Lakshman, and the beautiful Seeta has just begun.
---
Enter a post-apocalyptic world where the last of humanity struggles to fight against the evil hordes of Nark, a dark continent lead by the monstrous Ravan. Honorable, but inexperienced brothers Princes Rama and Lakshman are duty-bound to take command of the seemingly dormant outpost of Ayodhya. They soon realize no place in the world is safe from Ravan's iron grip and must become warriors to defend their people to the death. In a time when what's left of the world is enshrouded in darkness, these brothers are mankind's last beacons of hope.
---