Julius Abrera comic
The event of the year begins here! When The Lone Gunmen discover Internet files from future, they learn that a plague will soon wipe out most of humanity. With Agents Mulder and Scully working one lead, the Gunmen must spring into action and investigate several urban legends: a group of ghost-hunters, mutant turtles that live in the sewers, shape-changing alien robots, and a vengeful spirit from beyond the grave!
---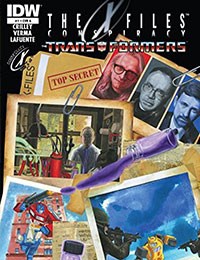 The Lone Gunmen's trail of secrets leads them to evidence of extraterrestrial life mechanical extraterrestrial life! Will OPTIMUS PRIME and his allies trust these human interlopers and what secret conspiracy could involve CYBERTRON, anyway?!
---
Abraxis Wren is the most notorious inquisitive in Sharn... and when a routine (well, routine by his standards) case puts him on the trail of creatures beyond the ken of mortal, it's only a matter of time before he finds himself caught up in the middle of INFESTATION 2! Introducing the D&D campaign EBERRON to comics!
---