Jon Morris comic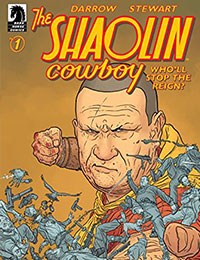 Who doesn't like Surf and Turf? Well, what do you do when Surf and Turf doesn't like YOU????????? The Eisner Award–losing and winning drawing-room talkfest The Shaolin Cowboy returns and will try to answer those questions as the titular hero of the series finds that his road to hell is paved not with good intentions but old nemeses hell bent on bloody revenge . . . AGAIN!!!!Three-time Eisner Award winner Geof Darrow returns to the series Paste called "mind blowing" and io9 called "100% amazing." "There's a lot to like about The Shaolin Cowboy. It's whacky, over-the-top, and at points laugh-out-loud funny... If you don't enjoy this book, you're already dead."—Comic Bastards.
---
SEE the Shaolin Cowboy FIGHT demons, sharks, and maniacal crustaceans, and GAPE, as the Cowboy continues his trip across the pockmarked landscape of the American psyche. You'll want to SEE the Cowboy confront his nemesis, KING CRAB, grapple hand to fin with a GREAT WHITE, and dance with an army of the UNDEAD! Get a full dose of Kung Fu, chainsaws, and wit, in this nonstop treasure of art and color. And a mule. It's a BUDDY PICTURE with a BODY COUNT!
---
I love anthologies. Whether it's the horror anthologies of film and TV or seminal comic publications like 2000AD. Dark Horse Presents had a long run from the mid 80's to the early 2000's. This is the third volume of the series and if you combine them, it's technically issue #194. I've rated the stories individually and taken the average for my overall score. The stories are as follows:The first story features Big Guy and Rusty. If you're not familiar with the characters you're definitely missing...
---