John Kovalic comic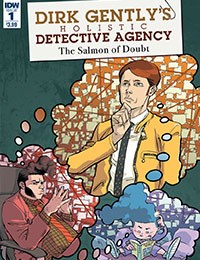 Plagued by nightmares about a childhood he never had, Dirk returns to Cambridge University to seek the advice of his former tutor, the time-traveling Professor Reg Chronotis. There he discovers that a holistic detective can have more than one past, and his adventures have only just begun... Featuring fan-favorite characters from the original books as well as the cast from the TV series, including Elijah Wood.
---
When the demons came, humanity reluctantly learned to share the world with another sentient race. Eighty years later, this uneasy co-existence has spawned an endless terrorist conflict. Detective Daniel Aston, charged with being the thin blue line between the two sides, is tested to the limit when a demon sets up house inside his soul. But to save his daughter, he'll pay any price—including genocide.
---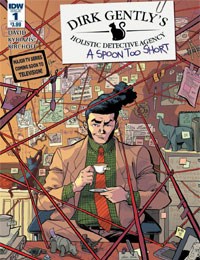 A Spoon Too Short is Dirk Gently's most baffling and incomprehensible case. Inspired by the tantalizing alternative title for the Dirk adventure Douglas Adams was working on prior to his death, written by Arvind Ethan David and executive produced by Max Landis, A Spoon Too Short follows the continuing adventures of the world's weirdest detective.
---