Joe Sinnott comic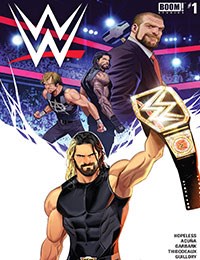 BOOM! Studios is proud to present the most authentic line of ongoing WWE comics. Each issue will feature your favorite Superstars in stories that go beyond what you've ever seen on TV. The first story arcs detail the "Breaking of The Shield." Seth Rollins. Roman Reigns. Dean Ambrose. Together they formed The Shield, one of the most dominant factions in WWE history—until the ultimate opportunist Seth chose to betray the group at the behest of Triple H, the "King of Kings" who has cemented himself as the authority in control of WWE. Now, eager to prove himself, Seth is on the hunt for the WWE Championship, a journey that will send him on a collision course with his former brothers... Includes a backup story starring The New Day by Ross Thibodeaux (Mighty Morphin Power Rangers 2016 Annual) and Rob Guillory (Chew).
---
Get ready for another round of slobberknocker short stories set throughout WWE history, tying into the fan-favorite annual pay-per-view event SummerSlam! Includes shorts about the Macho Man Randy Savage vs. Dusty Rhodes classic from 1990; 1991's matchup between The Natural Disasters and The Bushwhackers; the Undertaker vs. Mankind Boiler Room Brawl from 1996; and the Finn Bálor vs. Seth Rollins match from 2016.
---
Comics creators come together to celebrate their mutual love of the Mighty Morphin Power Rangers! From short stories like "The Origin of Goldar" to "What Would Happen If Bulk and Skull Became Rangers?", this oversized anthology collection features contributions from creators like Terry Moore (Strangers in Paradise), Rob Guillory (Chew), James Kochalka (Monkey vs Robot), and more!
---