Joe Jusko comic
Mae, Abbie and Kvido have nearly escaped death countless times, but that won't stop them from taking on the Zemetrasi to rescue their father. When they stumble across Petra Stoneheart, an old friend of Abbie's, Mae starts to learn more about the unfamiliar world she's followed Abbie through and about the sister she's been separated from for years.
---
When she was just a girl, Abbie discovered a portal to a fantasy world and for the last couple of years has been having great adventures there: defeating horrible monsters, power-mad scientists, and evil nobles. She was a celebrated action hero! But when she turned twenty-one it all came apart and she decided to return home. Her sister, Mae, has had no idea what happened to Abbie all this time. Her tales are too hard to believe; that is, until the monsters and other terrible creatures start to cross over to our world . . .
---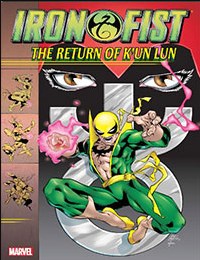 It's a cavalcade of kung-fu capers that will transform your bookshelf like unto a thing of iron! Danny Rand faces the Steel Serpent — but it's more like the "Steal Serpent" when he takes the power of the Iron Fist! Who is Death Sting, what does she want with the Scorpio Key — and what does she have to do with Danny's sister? When an ancient evil rises, will Danny be Iron Fist no more? If so, he'll need Wolverine's help when Tokyo begins transforming into the mystical city of K'un Lun! Plus: Take a fresh look at the uncanny origin of Iron Fist!
---