Jason Yungbluth comic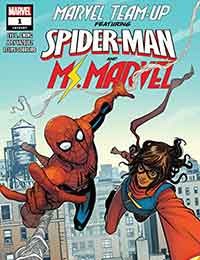 THE CLASSIC MARVEL TEAM-UP RETURNS! After a science demonstration at Empire State University goes awry, Ms. Marvel and Spider-Man find themselves tangled up in the same chaotic adventure. Is it destiny? Or disaster?! Eve L. Ewing (IRONHEART) and Joey Vazquez (SPIDER-GEDDON) team up for the first thrilling arc of a mind-bending and magnificent new series!
---
EXPLODING FROM THE PAGES OF INCOMING! In the wake of a devastating tragedy, the United States passes a law that will shake the Marvel Universe to its core. The world has had enough of teen heroes. The crackdown has begun. And the lives of Marvel's next generation will never be the same again. EVE L. EWING and KIM JACINTO launch a new era in this game-changing event one-shot that will send shockwaves across the Marvel Universe! You won't want to miss this one!
---
THE FORMER STAR OF INVINCIBLE IRON MAN HEADLINES HER OWN SOLO SERIES! When a group of world leaders is taken hostage by one of Spider-Man's old foes, Riri Williams will have to step up her game. And she'll be stunned when someone from back in Sweet Home Chicago enters her life... CHAMPIONS artist Kevin Libranda joins award-winning poet Eve Ewing, as Ironheart steps boldly out of Tony Stark's shadow to forge her own future!
---