Ibrahim Moustafa comic
Collects Tales to Astonish #27, 35-59.A man of action and a man of science, Dr. Henry Pym invented an amazing growth serum and a cybernetic helmet, and with them he became -- the Astonishing Ant-Man! Pym soon teamed with Janet Van Dyne, the winsome Wasp, and the two tiny titans went on to battle an array of mini- and maxi-sized menaces from the Scarlet Beetle to the Black Knight! But adventures in the microscopic world weren't enough for one of the Marvel Age's first super heroes. Soon, Ant-Man became the biggest Avenger there ever was -- Giant-Man!
---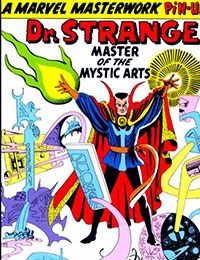 Master of the Mystic Arts, a sorcerer supreme, a white knight who wields black magic against blacker villains. Doctor Strange is mankind's only hope against the dark otherworldly forces that conspire to steal the life of the conscious world - forces such as Baron Mordo, the Dread Dormammu, Nightmare, Aggamon, The House of Shadows, Loki, the Mindless Ones, and more.
---