GG Studios comic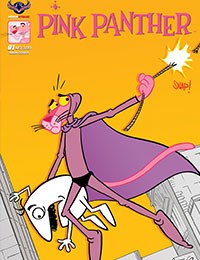 Look! Up in the sky! It's a bird, or is it Craylegs Crane? No! It's the Pink Panther! Swooping in to save the day it's a full issue of Pink Panther super heroics in the classic animation style of Frez Freling's timeless character! Join Pink and his crew as they save the day from the menacing villains of cartoondom. This special issue is guaranteed to make you smile with all the mischievous Pink hijinks you can handle.
---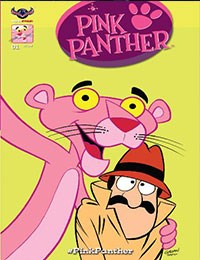 The cool cat is back! Generations of kids grew up loving the Pink Panther's unique style and wit on Saturday morning cartoons. And now today's best writers and artists are delivering original comic book stories that bring the trademark Pink Panther flair for confounding The Inspector and The Little Man to legions of new fans! Each issue is packed full-a pink with several new stories, original shorts, and even a few classic comic tales! We're cramming in 28 pages of comic goodness here so you get more pink for your green with American Mythology's new Pink Panther series! Join the Pink Panther, The Ant and the Aardvark, The Inspector, and a host of other favorite cartoons for the all-ages comic book event of the year!
---
Pink Panther fans demanded it and now everyone's favorite bumbling Inspector is back in his own hilarious comic! With the colorful rogues' gallery of Crime Inc. villains on the loose, the Commissioner must reopen The Pink Files and turn to his most trusted agent. And when she isn't available, only the Inspector is left to make a mess of the case. With his trusted sidekick Sergeant Deux-Deux at his side, no criminal is safe from the long arm of the law. Main cover by Derek Fridolfs, Subscription cover by Adrian Ropp, Deux-Deux cover by S.L. Gallant, and a special Inspector Clouseau Retailer Animation Incentive Cover.
---