Francheco Gaston comic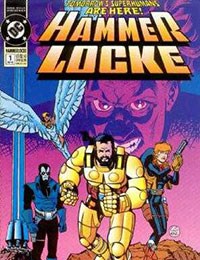 In the year 2033, the Starbridge, an elevator to Earth orbit, is humanity's greatest achievement. Sir Archer Locke, the designer of the Starbridge, has dropped out of sight after a near-fatal accident, seeking to escape his past. Now, Locke is the cyborg known as Hammerlocke and he must return to save his creation from the deadly force of the Iron Spider. Aided by an elite team of super-humans, Hammerlocke must unravel a complex plot of deceit and murder. At stake is the future of the human race.
---
The life of high school cheerleader Bly Pharis is disrupted by her parents' violent murder and the accompanying revelation that she is, in fact, The Scarlet Redeemer, fated to lead the last phase of an ancient war against a race of vampires. This popular creator-owned series from the '90s (created pre-Buffy the Vampire Slayer despite some similarities) is now being presented in digital form by Monsterverse. Special double-sized first issue.
---
A Zero Month crossover issue. With Zero Hour over, Damage reappears exactly where he was at the end of last issue: in the middle of Atlanta with Iron Munro and Wyldheart. Damage realizes from their flashbacks that Iron Munro knows more about his origins than he originally let on. Damage confronts Munro, thinking that Munro is secretly his father. When Munro does not answer, Damage attack him. The two fight through Atlanta, with Munro trying to calm Damage down. Damage's girlfriend Megan sees the fight on the news, and her and her sister Mandra rush to the fight to try to calm Damage down. They are too late, though, as Damage destroys a few city blocks. Realizing he has gone over the edge, Damage calms down and surrenders himself to the Atlanta PD.
---