Danijel Zezelj comic
THE CULT HIT SERIES RETURNS! A mysterious organization threatens The Lodge, and John 'Proof' Prufrock is on the run, hunted by the government he once worked for. He has found information that, after 200 years, could finally tell him who he is and where he came from, but he has to turn for help to a teenager who claims to own Proof's body! This is where it begins all over again!
---
DRACULA AT DOWNTON ABBEY! In one night Rasputin was poisoned, beaten, stabbed, shot in the head, drowned, then tied up and thrown in a frozen river. It was really bad timing. His beard was just coming in nicely. New York Times bestselling author ALEX GRECIAN and fan favorite artist RILEY ROSSMO reunite for the first time since their critically acclaimed series PROOF!
---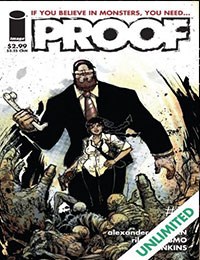 When FBI agent Ginger Brown got a promotion, she didn't expect her new duties would involve tracking down the world's most mysterious creatures. The Loch Ness Monster, Mothman and El Chupacabra are now on her "most wanted" list and her new partner looks an awful lot like...Bigfoot!
---