Dan Lawlis comic
Ghost Academy chronicles the early years of six StarCraft characters all destined for greatness-and tragedy. Five teenaged fourth-class Terrans (Nova, Tosh, Aal, Kath, and Lio) are rough-around-the-edges Ghost cadets in training - and they are forced to deal with everyday teen issues such as crushes, physical and emotional pain, addiction to drugs and their own budding telepathic abilities.
---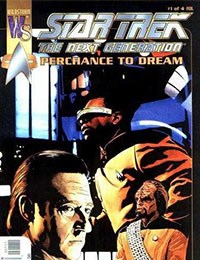 In STAR TREK: THE NEXT GENERATION - PERCHANCE TO DREAM #1, the Enterprise must provide security for an inauguration ceremony on the newly admitted Federation planet of Damiano. On this distant world, three genders are required for procreation, and anyone with fewer than two partners is considered a moral deviant. When it becomes known that the new governor elect has only one partner, only Picard and his crew stand between the new governor and Damiano's deadly moralist faction.
---
Television's science fiction masterpiece Farscape returns! Farscape creator Rockne O'Bannon teams up with Farscape novelist Keith R.A. DeCandido (House of Cards) to continue his creation in comic book form right where the Peacekeeper Wars left off! Find out what's in store for John Crichton, Aeryn Sun, Rygel, Chiana, and the rest of the Moya crew! Do the comics tie into Sci-Fi Channel's upcoming webisodes? You know it, 'Scapers! Don't frelling miss this! Available with covers from Joe Corroney, Dennis Calero, and a photo cover from the series.
---