Clayton McCormack comic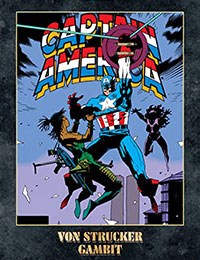 Collects Daredevil Annual #7, Punisher Annual #4, Captain America Annual #10.Hydra is back and they've unleashed murderous, genetically-enhanced assassins into the world. Daredevil, Captain America and the Punisher will team up with S.H.I.E.L.D. in order to quell these new Hydra killers.
---
Collects Daredevil (1964) #333-344 And Elektra: Root Of Evil #1-4.Dark times for Daredevil — and Elektra! When DD heads underground, he gets drawn into an ordeal involving Bushwacker, the Devourer and…Deathlok? But as things get explosive, is the biggest menace the underground King — or the rising Kingpin? Out of costume, it's Matt Murdock no more — now he's Jack Batlin, street hustler! But when a Kruel menace targets Matt's friends, "Jack's" old life quickly comes back to haunt him! It's time for the 'Devil to do a little soul-searching, before his identity crisis pushes him over the edge! Will Nick Fury and the Punisher play a part in the return of the "real" Daredevil? Plus: DD's former flame, the assassin Elektra, stars in her own epic tale of darkness and deception — taking on the Hand and the sinister Snakeroot!
---
Writer D.G. Chichester delivers a script so terrifying, so soul-numbing…it can only come from Hellfire itself! The mercenary Terror begins anew- by tormenting those who cross him.
---