Carla Speed McNeil comic
Dynamite proudly presents The Misadventures of Grumpy Cat (and Pokey!), featuring "The World's Grumpiest Cat" and her brother, Pokey! With her ever-present pout and sassy disposition, Grumpy Cat has won the hearts of people everywhere. Grumpy Cat is the perfect combination of unbearable cuteness, instant fan appeal, and established multimedia presence. If you love the memes, the videos, and that irresistible scowl, then get ready for the wildly fun antics of Grumpy Cat and Pokey in Dynamite's all-new, all-sensational Grumpy Cat comics! Grumpy Cat's global following includes 8.2 million Facebook fans and over 40 million YouTube views. Since her photos first went viral in 2012, Grumpy Cat has gone from Internet star to real-life celebrity.
---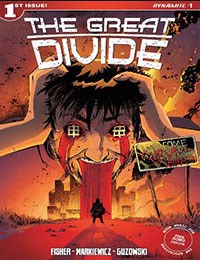 In the near future, humanity awakens to the horrifying reality that the faintest touch from another's skin results in agonizing death. The survivors isolate themselves, many driven mad by fragments of memories "absorbed" from those they've killed. Two years after the "Divide," a pair of thieves stumble upon the means to save their species. But not everyone is eager to see the old world order restored…Includes a free song download -- mood music for the apocalypse!
---
You'll laugh yourself silly as the killjoy kitten brings her hilarious brand of sass to comic books once again, joined by her high-spirited brother Pokey. What fun-loving escapades will Pokey dream up, and how will that adorable scamp Grumpy Cat rain on everyone's parade? Be sure to pick up this fantastic first issue, perfect for cat lovers of all ages!
---