Carl Gafford comic
Canto's adventure begins! Enslaved for generations, Canto's people once had hearts. Now they have clocks. When slavers damage a little tin girl's clock beyond repair, Canto must brave his strange and fantastic world to bring back her heart. Can he overcome the dangers that await to save the one he loves?
---
Tasked with capturing the most wanted fugitive in the universe, Ben Madsen (from Arcadia, California) must track his mark through a city filled with dangerous aliens (definitely not from Arcadia, California)—right here on Earth.
---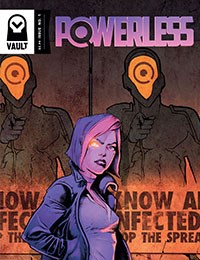 Billy Bannister lives in a world without superheroes. Not because powers don't exist. But because everyone has them. After the outbreak of PRV, a virus that rips away those abilities, Quarantine emerges to stop the spread. An elite agent, Billy is the last line of defense against contagion. But his loyalty is tested when the infection hits too close to home.
---