Brianne Drouhard comic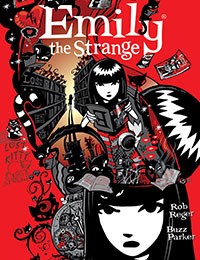 Emily the Strange is not your ordinary thirteen-year-old girl - she's got a razor-sharp wit as dark as her jet-black hair, a posse of moody black cats and famous friends in very odd places! She's got a broodingly unique way of experiencing the world, and you're invited along for the ride. Legions of fans worldwide have joined forces to make Emily a pop-culture phenomenon.
---
Emily--and her band, the Strangers--are going on tour! But another band is getting all the attention as Awesomely Awesome Records plots to edge Emily's crew out of the rock-and-roll scene. The nefarious record company is also hiding something terrible. It's up to the Strangers to discover what's behind the recent feline disappearances and find a way to drop the bass on the culprits. Emily the Strange creator Rob Reger reteams with cowriter Mariah Huehner (True Blood, Angel) and artist Cat Farris (Angry Birds) for a brand-new, full-color story full of evil record companies, stray-cat struts, science, and music!
---