Braden Lamb comic
The King of Ooo approaches the Candy Castle and proclaims that he has discovered the long-lost ConstitOootion. When Candy Law Professor verifies the authenticity of the document, which states in one week there will be an election for Ooo's first President, Princess Bubblegum will have to race against her enemies...and frenemies, to ensure her spot on the throne!
---
Josh Trujillo (Adventure Time) and Cara McGee (Over the Garden Wall) team up for a new series about the high-energy chaos of competitive dodgeball! Tomás is the new captain of the Jazz Pandas dodgeball team, and he's got a certain knack for keeping an eye on on the ball (or several!). However, he's untested and still not quite part of the team. If the disorganized Jazz Pandas want to make it to summer regional championships they'll have to pull together under Tomás' leadership.
---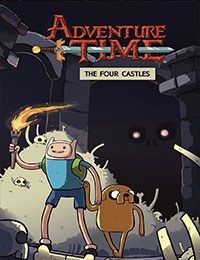 Writer Josh Trujillo (The Reason for Dragons, Love Machines) teams up with Adventure Time veteran artist Zachary Sterling for a new original story! When Finn and Jake are approached by the mysterious Guildmaster—an adventurer claiming to represent the Heroes' Guild of the Manyverse—they're challenged to complete the Quest of the Four Castles to gain entrance to the guild and the right to train as "real" heroes. But there's something fishy about this quest, and something even fishier about this Guildmaster!
---