Alex Telve comic
In the Year of the Villain, what's a Clown Prince of Crime to do when the world has started to accept doing bad as the only way to live? Out-bad everyone else, of course! The Joker is on a mission to get his mojo back and prove to the world that there is no greater villainy than the kind that leaves you laughing.This special one-shot is co-written by legendary film auteur John Carpenter (The Thing, Halloween) and Anthony Burch (the Borderlands video games), making for a Joker comic that's twisted in ways you never imagined!
---
From John Carpenter (director of Big Trouble in Little China, Halloween, The Thing, Escape from New York) and Anthony Burch (writer of Borderlands 2) comes the story of old man Jack Burton's final ride in the Pork-Chop Express. The year is 2020, and hell is literally on Earth. Ching Dai, sick of relying on screw-ups like Lo Pan to do his bidding, has broken the barriers between Earth and the infinite hells, and declared himself ruler of all. Sixty-year-old Jack Burton is alone in a tiny corner of Florida with only his broken radio to talk to, until one day it manages to pick up a message. Someone is out there in the hellscape, and they know a way to stop Ching Dai.
---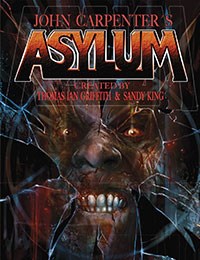 There's a war coming to the City of Angels. In tunnels beneath the city, in the dark alleys among the homeless, demons lurk and Lucifer bides his time. One man knows. One man sees. One man walks those dark streets. Father Daniel Beckett's seen demons and he's spoken to the Devil, but he's never seen an angel and he's never spoken to God. Obsessed and driven as much by betrayal as righteousness and anger as redemption, he walks the smoke-filled encampments of lost souls like Dante's nine rings of the Inferno. He is God's warrior at war with God.
---