Al Bellman comic
Hang on to your diapies, babies! We're teaming up with Nickelodeon for all-new Rugrats adventures featuring the most intrepid toddlers to ever bust out of a playpen! Tommy, Chuckie, Phil, and Lil have noticed something they are being watched. Somehow their parents can see every little thing they can do. They're going to have to find a way to have fun while avoiding the electronic eyes of the babycam!
---
Get ready for another round of slobberknocker short stories set throughout WWE history, tying into the fan-favorite annual pay-per-view event SummerSlam! Includes shorts about the Macho Man Randy Savage vs. Dusty Rhodes classic from 1990; 1991's matchup between The Natural Disasters and The Bushwhackers; the Undertaker vs. Mankind Boiler Room Brawl from 1996; and the Finn Bálor vs. Seth Rollins match from 2016.
---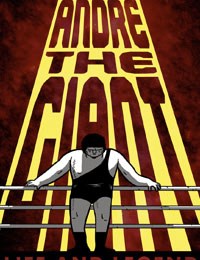 Andre Roussimoff is known as both the lovable giant in The Princess Bride and a heroic pro-wrestling figure. He was a normal guy who'd been dealt an extraordinary hand in life. At his peak, he weighed 500 pounds and stood nearly seven and a half feet tall. But the huge stature that made his fame also signed his death warrant. Box Brown brings his great talents as a cartoonist and biographer to this phenomenal new graphic novel. Drawing from historical records about Andre's life as well as a wealth of anecdotes from his colleagues in the wrestling world, including Hulk Hogan, and his film co-stars, Brown has created in Andre the Giant, the first substantive biography of one of the twentieth century's most recognizable figures.
---